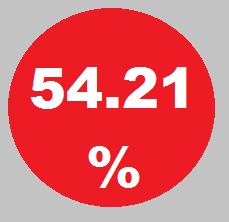 ***** Most Accurate Ghana Poll Ever ***** (Point)
54.21% Official!
As calculated by November, and published November 7. Nana Addo received 54.21%
Therefore, our calculation was, and is the MOST ACCURATE, of all polls, ever made in Ghana!
Below, we predicted, that NPP is leading by 5% (55%). Which is just a tiny 0.0079% difference, against the now official result...
See: As published November 7, 2016 ...