Source: Daily Graphic Ghana - The leadership of the People's National Convention (PNC) has categorically denied that their flagbearer, Dr Edward Nasigri Mahama, has conceded defeat and congratulated Nana Akufo-Addo of the New Patriotic Party (NPP) for victory.

The Chairman of the PNC, Mr Bernard Mornah, told Graphic Online Thursday morning that Dr Mahama does not have a Twitter handle from which the said congratulatory message was published.

Mr Mornah further explained that the flagbearer of the PNC does not also operate a Facebook account.

A twitter account bearing Dr. Mahama's name and portrait, in the wee hours of Thursday, tweeted a concessionary message and also congratulated him for ostensibly winning the presidential polls.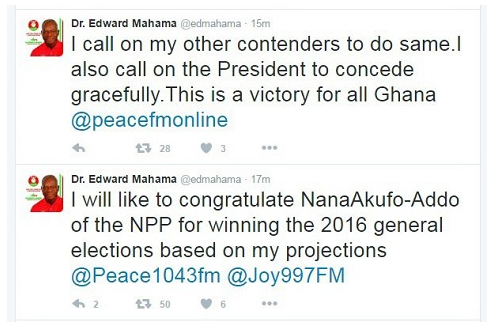 But according to the PNC chairman, that message could not have come from Dr Mahama or the party.
---